X-Ray Barriers
Easy to install in new or retrofit applications
5 standard sizes and 9 configurations available
Standard 1/16" (1.6mm) 4# Lead Protective Shielding
Higher lead shielding levels available upon request
Solid color powder coated or plastic laminate finishes
X-Ray Protective Lead Glass view window
Custom sizes and designs available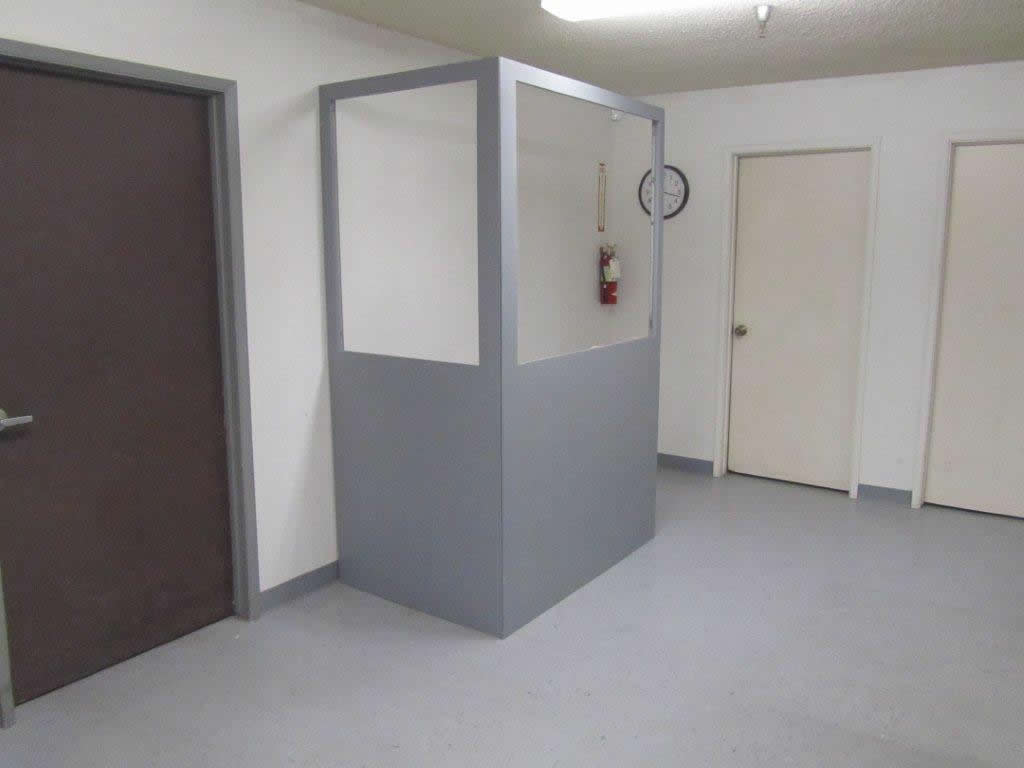 X-Ray Control Screen Barriers (stationary)
X-Ray Control Screen Barriers are constructed similar to our lead-lined doors. X-Ray Barriers are available in single or multiple sections to meet varied layout applications. Our lead lined control screen barriers are available in a variety of wood veneers, such as Rotary Cut Natural Birch, Plain Sliced Red Oak, Hardboard, Legacy Walnut, Legacy Oak, Mendocino Oak, Rotary Cut Mahogany and White Finish. They are produced with plastic laminates such as Wilsonart, Formica, Nevamar, Pionite, Laminart, Kydex and more, and are available for prompt fabrication. Our natural veneers are "good in stock".
*Please note: Graining, texture and coloring will naturally vary, and staining, coating, sealing, finishing or painting is not included.
Manufactured Pre-Finished Embossed Veneers are "good in stock". Colors may vary.
Plastic Laminate most popular solid colors (Other colors, designs, textures and wood-grains are readily available).
Click here for the Lead Thickness Chart.
Click here for the Powder Coat Color Chart.
X-Ray Barrier screens are available with view windows installed typically 60" on center. See Ray-Bar Lead Lined Vision Lite Frames. All installation hardware and brackets are included.
6 Standard design concepts
Durable solid color powder coated finishes
X-Ray Protective Lead Glass view window
4 Hospital-grade non-marring casters with locks and brakes
Standard 1/16" (1.6mm) 4# Lead Protective Shielding
Higher lead shielding levels available upon request
Custom sizes and designs available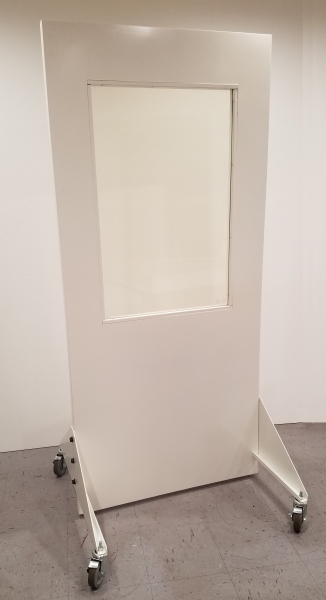 X-Ray Control Screen Barriers (mobile)
We offer mobile x-ray barriers in standard 1/16" (1.58mm) lead equivalency with x-ray view windows of various sizes and configurations. These mobile barriers are an excellent choice for medical imaging when the need for mobility is necessary. Common applications include emergency departments, trauma rooms, operating rooms, special procedures or wherever an immediate "on the run" emergency x-ray image is needed.
Standard powder coating color options, also available in brushed and grained stainless steel construction upon request.
Specialty shields are custom manufactured to customer specifications.
Ray-Bar Anti-Microbial X-Ray Control Barriers (Available on Mobile or Stationary Barriers)
Ray-Bar's "Anti-Microbial" Mobile or Stationary X-Ray Control Barriers are internally shielded to properly provide x-ray protection from Alpha, Beta and Gamma Ionizing radiation for proper shielding of medical diagnostic x-ray imaging procedures.
Protective level: 1.6MM / 4# / 1/16" Pb shielding equivalency @ 150 kVp is minimum standard. Additionally Ray-Bar color coats our proprietary x-ray control barriers with a highly durable and corrosion resistant finish that includes a composite additive that homogeneously defends against the growth of micro-organisms such as bacteria, viruses, mildew, algea and fungi.
When ordered with a x-ray glass view window, either Ray-Bar modular or stationary Control Barriers included Ray-Bar's "Easy-Clean" X-Ray Glass that is Ray-Bar factory surface treated to also inhibit bacterial adherence and colonization including "bio-film" build ups.
Ray-Bar's Anti-Microbial color-coating technology utilizes non-migratory, long term durable finish that promotes a broad spectrum antimicrobial effectiveness with a slow release silver ion exchange process that disrupts bacterial and resists microbes and the formation of bio-film.
Click here to find out more about our Mobile X-Ray Barriers.
Click here for the Lead Thickness Chart.
Click here for the Powder Coat Color Chart.
Don't forget to browse our Lead Glass.