Window Frames for Rifle Resistant Glass
Ray-Bar supplies UL752 Level 8 rifle bullet resistant telescopic glass window frames for ballistic safety installations. View the diagram below for full specifications on these patent-pending ballistic glass solutions.
Our rifle resistant glass frames consist of a two-piece, 2" wide, 16-gauge steel telescoping frame with factory set stops and mitered corners. Ballistic material is included on the inside of the frame profile (typically on the threat side). Frames adjust from 4-1/4" to 8", and can accommodate ballistic glass up to 2" thick; larger sizes available upon request.
Rifle Resistant Glass Frame Options
Extra thick wall profiles
Vertical mullion(s)
Thicker glass profile
Frame Material Options
16-gauge steel (standard)
16-gauge 304 stainless steel, #4 brushed finish
063" 5052-H32 brushed aluminum; clear anodized finish
Specification Notes
The bullet resistant value of the ballistic glass frame should be the same as the surrounding wall or partition. Customer/installer must verify ballistic protection level requirement prior to ordering.
Download the PDF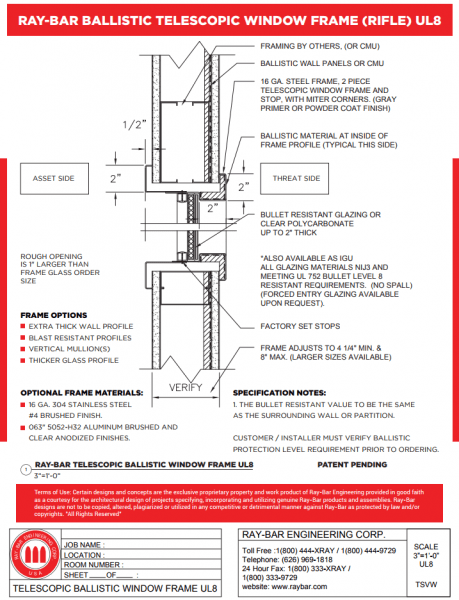 Contact Us for Complete Ballistic Glass Solutions
In addition to our bullet resistant telescopic glass window frames, Ray-Bar offers a full line of ballistic products and bullet resistant glass for all your safety and security needs. Request a quote on the rifle resistant glass frame you need, or contact us for more information.