Fireplace Ceramic Glass
Neoceram glass is a clear Glass-Ceramic that is resistant to thermal shock and heat resistant nearly 3x more than standard tempered glass. It is commonly is used in stoves, fireplaces, and other heating appliances.

With variable temperature exposure up to 1292 degrees Fahrenheit (versus 428 degrees of tempered soda lime glass), Neoceram can withstande extremely hot environments. Neoceram exhibits a nearly zero thermal expansion coefficient. The heat resistance also does not diminish over time like other glass products in the category.
Neoceram is a 3/16" (5mm) thick silica coated ceramic glass. It is available up to 44" x 78" maximum size.
Neoceram Beneficial Features
Neoceram is a thermal shock and heat resistant clear-glass ceramic panel that provides a wide range of advantageous features including:
Withstands continuous temperatures up to 1292°F
Standard stock sizes up to 44" x 78" maximum
3/16" (5mm) thick clear silica coated Glass-Ceramic
Excellent heat resistance
Almost zero thermal expansion coefficient
This product is not UL listed or classified
This is not a Fire Rated Product
This product is not Fire Protective or Fire Resistive
This product is not impact resistant
This product is not a barrier to conductive or thermal heat transfer
This product does not provide any insulation from heat
These products must only be installed by licensed glazing professionals
Note: For fire protection against flame and smoke or fire rated glass utilize Ceramic Glass Products: FireLite, FireLite+Plus or WireLite-NT (UL Listed)
Note: For fire resistive, flame, smoke, radiant heat and conductive heat barrier utilize: Pyrostop Glass (UL Listed)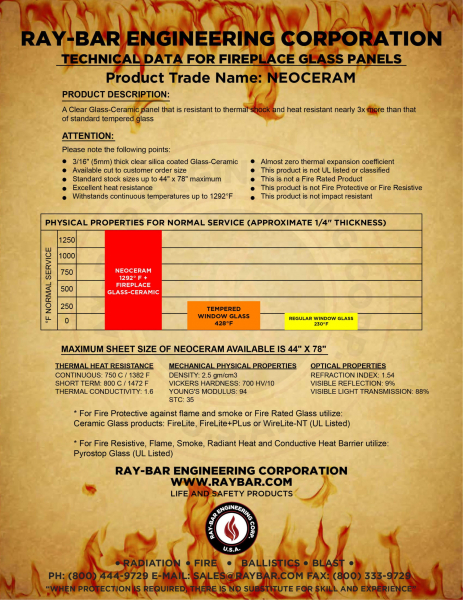 Contact Ray-Bar Engineering for Neoceram Heat resistant Glass Today
Contact us for more information regarding Neoceram thermal shock and heat resistant glass, or request a quote for further pricing details today.