Window Frames for Handgun Resistant Glass
Ray-Bar supplies UL752 Level 3 handgun bullet resistant telescopic window frames for ballistic safety applications. View the diagram below for full specifications on these patent-pending ballistic glass products.
Our handgun resistant glass frames are built with a two-piece, 2" wide, 16-gauge steel telescoping frame. Factory set stops, miter corners. Ballistic material is layered inside the frame, typically on the threat side. Adjustable from 4-1/4" minimum to 8" maximum, and work with ballistic glass up from 1" to 2" thick; larger sizes available upon request.
Handgun Resistant Glass Frame Options
Extra thick wall profiles
Vertical mullion(s)
Thicker glass  profile
Frame Material Options
16-gauge steel (standard)
16-gauge 304 stainless steel, #4 brushed finish
063" 5052-H32 brushed aluminum; clear anodized finish
Specification Notes
Handgun resistant frame should provide the same bullet resistant value as the surrounding wall or partition. Customer/installer must verify ballistic protection level requirement prior to ordering.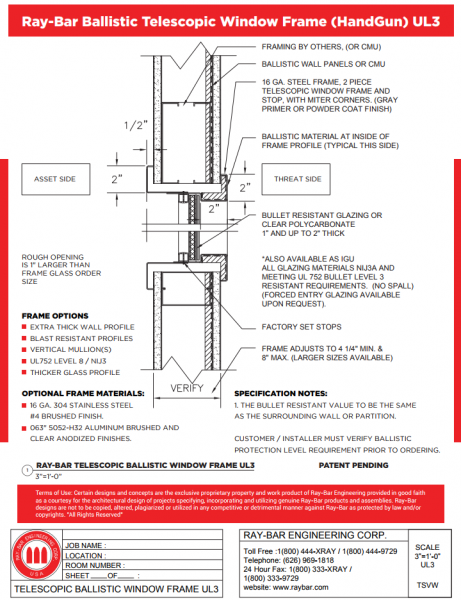 Contact Us for Complete Ballistic Glass Solutions
In addition to our bullet resistant telescopic glass window frames, we also provide a full line of ballistic products and bullet resistant glass for safety and security installations. Request a quote on handgun resistant glass frames, or contact Ray-Bar to learn more.