Other RAY-BAR Products
---
RAY-BAR LEAD LINED CONTROL SCREEN BARRIERS are manufactured to similar construction to RAY-BAR Lead Lined Doors, and are available in single or multiple sections to meet varied layout applications. Our Lead Lined Control Screens Barriers are available with a large variety of wood veneers such as Rotary Cut Natural Birch, Plain Sliced Red Oak, Hardboard, Legacy Walnut, Legacy Oak, Medocino Oak, Rotary Cut Mahogany, White Finish, and all currently produced plastic laminates such as Wilsonart, Formica, Nevamar, Pionite, Laminart, Kydex, etc. are available for prompt fabrication.
NATURAL VENEERS "GOOD IN STOCK". *Please note: These are general examples as graining,texture and coloring will naturally vary. (Staining,coating,sealing,finishing or painting is not included)

| | | | |
| --- | --- | --- | --- |
| BIRCH | RED OAK | WHITE OAK | MOHAGANY (Luan) |

Manufactured Pre-Finished Embossed Veneers"Good in Stock"*Please note these are general examples only,as actual colors may vary.
| | | |
| --- | --- | --- |
| LEGACY WALNUT | LEGACY OAK | MENDOCINO OAK |
Plastic Laminate Most popular solid colors (Other colors,designs,textures and wood-grains are readily available)
| | | | |
| --- | --- | --- | --- |
| DESIGNER WHITE | FASHION GREY | DOVE GREY | SAND |
Lead Lined Control Barrier Screens are available with view windows installed typically 60" on center. See RAY-BAR LEAD LINED VISION LITE FRAMES.
All installation hardware and brackets are included.

---
| | | | | |
| --- | --- | --- | --- | --- |
| RAY-BAR X-Ray Control Screen Barrier | RAY-BAR Angled Control Screen Barrier | RAY-BAR Shielded Control Screen Barrier | RAY-BAR Wood Control Screen Barrier | RAY-BAR Isotope Gamma Shield |
Mobile X-Ray Control Screen Barriers
We offer Mobile X-Ray Control Screen Barriers available in standard 1/16" (1.58mm) lead shielded barriers with x-ray view windows of various sizes and configurations. These Mobile X-Ray Control Screen Barriers are an excellent choice for medical imaging when the need for a x-ray protective mobile screen is necessary for properly shielding the x-ray technician when utilizing a non-dedicated portable x-ray unit such as in Emergency Departments,Trauma Rooms,Operating Rooms,Special Procedures or other applications where an immediate "on the run" emergency x-ray image is needed due to the urgent condition of the patient or the delicate procedures in progress, while using an easy to position mobile technician/operator x-ray control barrier without the inconvenience or risk of actually moving the patient to a formal radiology department for diagnostic imaging.
| | |
| --- | --- |
| Large Window Mobile Control Barrier | Small Window Mobile Control Barrier |
RAY-BAR LEAD LINED LIGHT PROOF STEEL LOUVERS are fabricated with 18 gauge steel, painted non-reflective flat black color with lead lining as required. Order size is cut-out size. Our lead lined light proof louvers will fit in doors from 1-3/8" thick to 1-3/4" thick, and provide a complete overlap for radiation shielding and 20% for air flow.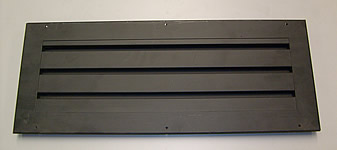 Other Shielding Products Include:
[Click On Images for Larger View]
OTHER SHIELDING PRODUCTS:
· SHEET "GOOD IN STOCK", AVAILABLE IN SIZES UP TO 8'0" X 20'0"
1/64" (.39mm), 1/32" (.79mm), 5/128" (.99mm), 3/64" (1.19mm), 1/16" (1.58mm), 5/64" (1.98mm), 3/32" (2.38mm), 1/8" (3.17mm), 5/32" (3.97mm), 3/16" (4.76mm), 1/4" (6.35mm) THICK.
· PLATE "GOOD IN STOCK" AVAILABLE IN SIZES UP TO 4'0" X 8'0"
3/8" (9.52mm), 1/2" (12.7mm), 3/4" (19.05mm), 1" (25.4mm), 1-1/2" (38.10mm) AND 2" ((50.80mm)
SEE RAY-BAR SHEET LEAD THICKNESS CHART
· LEAD FOIL ADHESIVE TAPE ROLLS
For sealing seams and joints between shielding panels in low energy x-ray applications.
Widths 1/4" , 1/2" , 3/4" , 1" , 1.5" and 2" available as good in stock.
· POWDER COATED PURE LEAD PLATE AND PURE LEAD SHEET
Ray-Bar Powder Coated Pure Lead Sheet and Pure Lead Plate is available in 16 different thicknesses of 99.9% pure lead for X-Ray or Gamma shielding from 1/32" to 2" thick and in many standard Powder Coated solid colors and provides a durable clean surface while also encapsulating the lead and reducing potential exposure or general hygiene concerns. This product offers unique and practical advantages when radiation shielding applications require actual technician or other trained personnel handling of the shielding materials or reasonably maintaining a clean room or laboratory environment.



· WIRE / ROD: "GOOD IN STOCK", AVAILABLE IN 25 lb SPOOLS


1/8", 5/32", 3/16", 1/4", 5/16", 3/8", 1/2", 5/8", 3/4", 7/8" AND 1" DIAMETER

· PIPE / TUBE: 1" I.D. UP TO 6-1/2" I.D. IN A WIDE RANGE OF WALL THICKNESS
· WOOL: FOR PACKING VOIDS OR JOINTS, AVAILABLE IN 50lb BOXES.
· SHOT: "FREE-FLO"
FOR HIGH DENSITY FILLING OF VOIDS, AVAILABLE IN 25 lb BAGS
· CAULKING: 5 lb CAKES ON 25 lb STRINGS
· INTERLOCKING PURE LEAD BRICKS AVAILABLE IN "V" OR "CHEVRON" OR "STEP" DESIGNS.
RAY-BAR Interlocking Pure Lead Bricks utilize only 99.9% pure lead to provide maximum radiation shielding attenuation and greatly reduce potential impurity "activation" and allow end user to easily install in new or retro-fit shielding applications for high energy X-Ray or Gamma Radiation Protective Shielding and provide an interlocking NCRP compliant overlap to prevent gap radiation scatter leakage at both vertical and horizontal joints between the individual "brick by brick" radiation barrier assembly. Tube steel or "I" Beam vertical supports may be required to support overall lead brick wall barriers in place, please review with your projects licensed structural engineer for specific design criteria. Please note lead does not shield against Thermal or Fast Neutrons (See Ray-Bar Neutron Shielding Boron Loaded Products or High Density Concrete Materials)

· INGOTS: IN 60 / 65 lb PIGS
· WEIGHTS: TO CUSTOMER SPECIFICATION
· MACHINED PARTS: TO CUSTOMER SPECIFICATIONS, PRINTS AND TOLERANCES.
· GAMMA SHIELDS: STATIONARY OR MOBILE, MADE TO YOUR SHIELDING REQUIREMENTS.
· BRACHYTHERAPY SHIELDS: MOBILE, MADE TO YOUR SHIELDING REQUIREMENTS.
POWDER COATING STANDARD COLORS OPTIONS FOR RAY-BAR MOBILE GAMMA SHIELDS and CONTROL SCREEN BARRIERS
(Mobile Shields and Screens are also available in Brushed and Grained Stainless Steel Construction upon request)
· ISOTOPE CONTAINERS: STANDARD CYLINDERS OR CUSTOM SIZES / DESIGNS.
· SPECIALTY SHIELDS: CUSTOM MANUFACTURED TO CUSTOMER SPECIFICATIONS.
· SHIELDED ENCLOSURES: PLYWOOD / ALUMINUM / STEEL / COMPOSITES TO CUSTOMER SPECIFICATIONS.
· SHIELDED COMPONENTS: PANELS AND PARTS TO CUSTOMER SPECIFICATIONS.
· VINYL: FOR FLEXIBLE GAMMA SHIELDING OR CURTAINS, AVAILABLE IN THICKNESS OF 1/32" (.25mm L.E.), 1/16" (.50mm L.E.) AND 1/8" (1.0mm L.E.)
X-RAY LEAD VINYL for Flexable X-Ray and Gamma Shielding.
For use in low energy X-Ray / Gamma Radiation reduction
Flexible and Pliable for a wide variety of applications
Uniform density for a consistently dependable shielding value
Smooth,easy to clean surfaces on both sides
Durable and Abrasion Resistant
Acid / Alkali Resistant and Non-Absorbing

Lead Vinyl Thickness

Lead Equivalence Shielding Value

Vinyl Color

0.8mm / .031"
1.6mm / .062"
3.2mm / .125"


0.25mm / .009"
0.50mm / .019"
1.00mm / .039"

Green
Grey
Beige

X-Ray Lead Vinyl is Readily Available "Good in Stock" in cut sizes up to 48" x 96".
· FOAM: 1/2" OPEN CELL FOAM FOR SOUND CONTROL, UP TO 1/8" LEAD THICKNESS. AVAILABLE IN SIZES UP TO 4'0" X 20'0".
BORATED POLYETHYLENE SHEETS: 1" thick 5% CONTENT FOR THERMAL, NEUTRON SHIELDING, AVAILABLE IN SIZES UP TO 4'0" X 8'0".
· BORON-POLYETHYLENE PELLETS: FOR FILLING VOIDS IN NEUTRON SHIELDING APPLICATIONS. Borated Polyethylene Pellets are available with either 5% boron or 0.7% boron content, and also classified as "self-extinguishing" utilizing the testing methods of ASTM test D-635 for Flammability of Self Supporting Plastics and ASTM D-2863 test for Flammability of Plastics Using Oxygen Index Method. These pellets provide a bulk density of about 50% of what solid BPE would provide. Please contact Ray-Bar if you require additional information.
· BORATED POLYETHYLENE SHAVINGS: FOR FILLING VOIDS IN NEUTRON SHIELDING APPLICATIONS.
Borated Polyethylene shavings are available with 5% boron content and utilzed for packing and filling in very small voids,gaps or joints in between solid BPE shielding sheets. Please contact Ray-Bar if you require additional information.
BORATED POLYETHYLENE SHAVINGS
· NEUTRON PUTTY : FOR FILLING VOIDS IN NEUTRON SHIELDING APPLICATIONS
Excellent malleable and pliable properties for molding around pipes or filling gaps and voids for thermal neutron shielding
This Borated Poly Putty has a 10% boron and high hydrogen content for attenuating thermal neutrons.
· GAMMA PUTTY / CLAY: FOR FILLING VOIDS IN HIGH ENERGY GAMMA SHIELDING APPLICATIONS
Excellent malleable and pliable properties for molding around pipes or filling gaps and voids for gamma radiation shielding
This Gamma Putty has a 90% bismuth and high density composition content for attenuating x-ray / gamma radiation.
· BORON FLEX / PANEL: FOR FLEXIBLE NEUTRON SHIELDING REQUIREMENTS.
Borated Flex Panels are lightweight,extremely flexible and easy to cut or shape containing 9% boron
content and hydrogen and are typically utilized for shielding high-energy neutrons.
Panel Sheets are available 3/8" thick size 48" x 48" square.
· HIGH DENSITY CONCRETE BLOCKS: AVAILABLE IN DENSITIES UP TO 300 lbs / C.F.WEIGHT
MANY OTHER SPECIALTY SHIELDING PRODUCTS AND MATERIALS AVAILABLE UPON REQUEST, CONTACT US.
FOR MEDICAL AND INDUSTRIAL USES OR APPLICATIONS ONLY
(NOT FOR RESIDENTIAL USES OR APPLICATIONS)


RAY-BAR SHIELDING MATERIALS AND PRODUCTS
SUSTAINABLE • RECYCLABLE • RESPONSIBLE
LEAD'S GREEN FACTS AND ASPECTS
Lead is one of the oldest and most durable building material and has historically been known to last for more than 500 years.
Lead is by far the most efficient and typically most cost effective shielding material, as it takes much less area volume(thickness) to properly shield and far less shielding material expense costs (compared to other metals,composites,metallic polymers or "lead-free" shielding materials) for shielding medical diagnostic x-ray and ionizing gamma radiation protection,and lead is the one dependable pure metal standard that all conventional radiation shielding is based on and which all other materials and composites are compared to for establishing a shielding attenuation value.
Some of today's other shielding alternatives can deteriorate and fail within 20 years,or less. The types of materials used and the methods of manufacture mean they are destined for early replacement – this means they potentially have both a negative cost and environmental impact.
There is an established scrap lead salvage and recovery network in the US that ensures constant recycling. When compared to virtually all other products,metallic polymers or composite materials used as a shielding substitute, lead's recovery rates are dramatically higher in Western countries and in the U.S. as more than 98% of lead used in building or construction is recycled.
Lead is 100% properly recyclable time after time after time – and it never deteriorates, no matter how many times it is recycled, retaining all the natural qualities that attract architects,physicists and engineers to it in the first place.
Properly recycling lead uses far less energy than the original mining and smelting process that first created it, and a lower melting point during the recycling process delivers impressive energy saving efficiencies making reclamation cost effective as well as environmentally desirable.
3 million tonnes of lead are produced worldwide each year by simply recycling scrap lead from construction,shielding,roofing, pipes and batteries. In fact, in the western hemisphere, more "new" lead is efficiently produced by proper recycling than by new mining,and thus preserving our precious resources.
Specifying lead shielding will also help keep other materials - (some of which are much more difficult and expensive to recycle) - from entering the ecosystem where they could easily end up in our landfills.
Studies by various research and development institutes show that synthetic materials,metallic polymers and composite materials developed as a potential alternative to lead have significantly higher impacts on global warming during their manufacturing process,-- and as is becoming more widely accepted, global warming and climate change is one of the current factors potentially affecting the world's environment.
Ray-Bar only utilizes metallic lead in solid forms,which is one of the safest and least bio-available forms of lead.
Please note Ray-Bar does not melt,cast,smelt,alloy,burn or weld lead, and does not offer lead ore,oxides or other potentially hazardous forms.
Ray-Bar can help assist in your building projects achieving LEED certification points utilizing our products.
* Ray-Bar is a proud member of the U.S.Green Building Council and the Canada Green Building Council.

PLEASE CONTACT US FOR MORE INFORMATION.

"Over 65 Years of Manufacturing Excellence"


[ Wall Systems ] [ Shielded Doors ] [ Control Windows ] [ Other Products ] [ Shielding Information ] [ Specifications ] [ Contact Us ]

HOME PAGE
RAY-BAR ENGINEERING CORPORATION
697 W. Foothill Blvd
P.O. BOX 415
Azusa, CA 91702-0415

Toll Free: 1(800)444-XRAY / 1(800)444-9729
Telephone: (626) 969-1818
24 Hour FAX: 1(800)333-XRAY / 1(800)333-9729
© 2000-2010 All Rights Exclusive and Reserved Ray-Bar Engineering Corporation
All calculations for lead shielding requirements should be determined by a qualified health radiation physicist or other radiation
"expert" as defined by NCRP or ICRP, and currently recognized by the state/providence/region/area in which the project occurs.
CUSTOMER OR END USER SHOULD HAVE ALL RADIATION SHIELDING PROJECTS COMPLETELY TESTED AND SURVEYED BY A THEIR ORIGINAL PROJECT RADIATION PHYSICIST OF RECORD,
WHO MUST BE A QUALIFIED RADIATION HEALTH PHYSICIST OR OTHER RADIATION "EXPERT" AS DEFINED BY EITHER NCRP OT ICRP, AFTER INSTALLATION AND PRIOR TO OCCUPANCY AND USE.

Please see DIAGNOSTIC RADIATION SHIELDING CONSIDERATIONS for more information


THESE PRODUCTS AND MATERIALS ARE FOR MEDICAL AND INDUSTRIAL USE AND APPLICATIONS ONLY
(NOT TO BE UTILIZED FOR RESIDENTIAL APPLICATIONS)
We reserve the right to refuse service or sales to anyone at anytime. No sales to the general public
Copyright ©1998-2010 ALL RIGHTS RESERVED. NO MATERIAL OR CONTENT WITHIN THIS WEBSITE MAY BE COPIED, IN ANY FORM, FOR PUBLIC, PRIVATE, OR COMMERCIAL USE OTHER THAN SPECIFICALLY PERMITTED BY RAY-BAR IN THE DESIGNING,SPECIFYING,SUBMITTING AND USE OF AUTHENTIC RAY-BAR MATERIALS AND PRODUCTS IN MEDICAL OR INDUSTRIAL APPLICATIONS. The information,specifications and details contained on this website is solely to be utilized by Architects,Designers and Specification writers and authorized Ray-Bar distributors or customers in the open marketing,submission and specifying of only authentic Ray-Bar materials and products offered herein for use in Hospital,Medical and Industrial design and construction applications. Any utilization,modification,publication,reproduction,dissemination,transmittance,reposted,disclosed,republication,retransmission or distribution of this websites contents in violation of these terms or in a detrimental or competitive manner against Ray-Bar's good faith effort provisions of this information may be prosecuted as defined by local,state,federal and global regulations or fair trade,plagiarism,copyright laws or the Digital Millennium Copyright Act. No part of any of the material on this Ray-Bar web-site may be reproduced (for any other than the authorized above uses) by any mechanical, photographic, or electronic process, or in the form of a photographic recording, nor may it be stored in a retrieval system, transmitted or otherwise copied for private, public or commercial use, reposted, disclosed, or redistributed, without prior specific written permission in advance from an authorized representative of Ray-Bar Engineering Corporation. Ray-Bar's name or logo must not be removed or modified from any of Ray-Bar's information,details,designs,technical data,specifications or other information. All Infringement or plagiarism of any Ray-Bar website content,details,images,technical data,information,materials,products,proprietary designs,specifications or other information is specifically prohibited.
Please Consider Helping the Most Innocent in Finding a Cure for Serious Diseases and also Victims and Families needing Relief Efforts for Disasters Worldwide:
Children are the most innocent of victims when diagnosed with a life threatening disease,yet through research and your donations there are new therapies and cures discovered each generation that help us all move toward our goal of preserving precious lives. As we are also well aware of the massive multi-tragedies and huge loss of life that occur worldwide from earthquakes, tsunami, tornados, hurricanes, natural disasters and wars along with basic essential needs of food, water, medicine and safe shelter. Please take a minute and simply donate to the much needed basic survival supplies, first aid and emergency assistance or the much needed research to find real cures through the following legitimate charitable links: